September 19, 2016
Top 8 Superhero Comics, 1934-1971
While there is no definitive canon for superhero comics, I'm working on a chapter for my forthcoming book that presents a list of "key works." I'm defining "key" by a variety of elements including aesthetic quality, historical impact, and medium innovation. In terms of genre, a work's influence on other creators is as noteworthy as its merits judged individually. Some works listed here are historically significant to the genre, some are individually excellent, and some are both. While a comics text might include anything from a single comic strip to a collected comic book series to a graphic novel created and published as a single work, I define and so divide texts according to authorship, usually writer-artist collaborations on a single series. When an ongoing comic book title changes authors, it also changes texts. While a complete list of key works might number into the hundreds, I'm imposing practical limits, selecting only four works from each of the six Code-defined historical periods. Here are the first eight:
Pre-Code Era, 1934-1954:
Siegel & Shuster's Superman in Action Comics and Superman (1938-1940).
After premiering in Action Comics #1 (June 1938), the original incarnation of Superman was relatively short-lived. Jerry Siegel continued to write the character, but due to his failing eyesight co-creator Joe Shuster was no longer a primary artist after the second year. Shuster penciled and inked the Superman episodes in Action Comics #1-#5, penciled and co-inked #6-10, and then penciled or co-penciled all but three issues of #11-24 (May 1940), after which he contributed only sporadically. After the initial Superman July 1939 reprint edition, he penciled the entire 64-page quarterly Superman #2 and #3 (March 1940). Shuster's run coincides roughly with Superman's first arch-nemesis, the Ultra-Humanite, retconned in #13 as the mastermind behind Superman's first year of adventures, seemingly killed in #21, and replaced by Luthor in #23. Shuster however retained some artistic control by subcontracting replacement artists himself through his "Shuster Studio." Siegel and Shuster formally left DC, then National Allied Publications, after their ten-year contract expired and they lost their suit against the company for copyright of Superman.
Finger & Kane's Batman in Detective Comics and Batman (1939-1943).
Because writer Bill Finger was employed by artist Bob Kane who alone was contracted by Detective Comics, Inc., Kane received sole creator and author credit for Batman. Though Finger appears to have been the primary creator, he wrote only the first two episodes before Gardner Fox's six-issue run from #29-34, which introduced discordant supernatural and fantastical elements that Finger eliminated upon his return in #35. Kane and Finger's partnership and creative control of the character ended through attrition. Finger wrote all of the Batman episodes in Detective Comics from #27-28, 35-59, seven of 60-68, and then only four of the next seventeen issues, leaving the series after #85 (March 1944). Kane penciled all but one issue from #27-74 and then four of the next eight, leaving the series after #82 (December 1943). Kane exclusively penciled the multi-story Batman #1-8 (December-January 1941), and Finger wrote all of #1-10 (February-March 1942). Batman #14 (December-January 1942) was the first without a story by Finger and #19 (April-May 1943) the first without art by Kane, after which both creators became increasingly rare. Finger wrote for a range of other DC titles, and Kane maintained credit for Batman after renegotiating his contract in 1949.
Eisner's The Spirit (1940-1942).
In 1939, Will Eisner left his comics studio partnership with Jerry Iger to manage a 16-page tabloid-sized insert for Sunday newspapers distributed by the Register and Tribune Syndicate. Unlike almost all other pre-1980s creators, Eisner negotiated ownership of his work and received wide artistic freedom. The first insert was published on June 2, 1940 and featured the first seven-page The Spirit episode written, penciled, and inked solely by Eisner. Initially a police detective, Denny Colt is seemingly killed and buried but returns to fight crime under a mask and alias. Eisner had created and co-created previous comic-book heroes, including the Flame, Dollman, Blackhawk, and the copyright-infringing Wonderman, but The Spirit provided the opportunities for innovation that would establish Eisner as a central pioneer of the comics medium. Beginning May 3, 1942, Eisner, now serving overseas in the military, turned co-pencils and inks over to ghost artists and scripts to ghost writers beginning June 7. He contributed sporadically during the war, returned as the primary writer on December 23, 1945, and as primary artist January 12, 1947. His writing contributions decreased again in 1949 and his art in 1951, until he was primarily only supervising when the series ended October 5, 1952.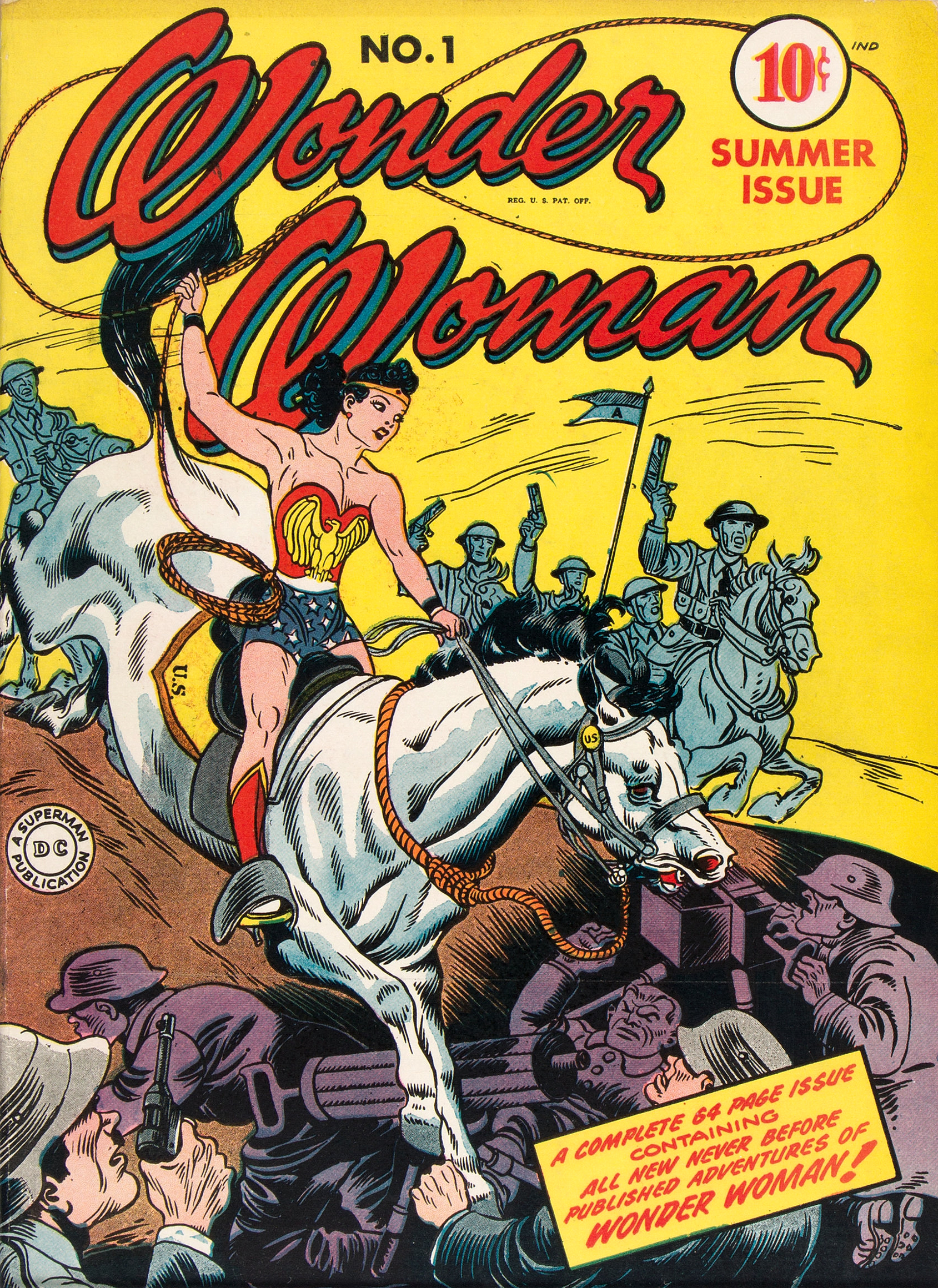 Marston & Peter's Wonder Woman in All Star Comics, Sensation Comics, Wonder Woman, and Comics Cavalcade (1941-1948).
Wonder Woman was conceived by psychologist William Moulton Marston, who selected Harry G. Peter as artist and credited their collaboration under the joint pseudonym Charles Moulton. Marston also served on publisher M. C. Gaines' advisory board for All American Comics, a sibling company to Detective Comics and National Allied Publication, later jointly known as DC. Wonder Woman premiered in All Star Comics #8 (December 1941), on sale during the bombing of Pearl Harbor, before expanding to Sensation Comics (January 1942), Wonder Woman (Summer 1942), and Comics Cavalcade #1 (December 1942). Marston's run is notorious for themes of BDSM, which he intended to be instructional for young readers because he believed that sexual bondage—pleasurable submission to another's loving authority—was central for conditioning good citizens. Marston died in 1947, but his writing continued to appear until Robert Kanigher officially replaced him on Wonder Woman #31 (September 1948). Peter continued on the series until his own death, with his last pencils and inks appearing in #97 (April 1958). With Superman and Batman, Wonder Woman is one of only three superhero characters in continuous publication since their pre-World War II premieres.
First Code Era, 1954-1971:
Lee & Kirby's The Fantastic Four (1961-70).
Former Iger Studio employee Jack Kirby established himself as a major comics artist during World War II, most famously co-creating Captain American with Joe Simon in 1941 for Marvel's predecessor, Timely. Kirby and Stan Lee's nine-year run on The Fantastic Four, from #1 (November 1961) to #102 (September 1970), is likely the longest continuous collaboration on a single title in comics history. The first issue marks publisher Martin Goodman's transition from the financially struggling Atlas Comics of the 50s to the soon market-leading Marvel of the 60s. The series redefined the superhero genre, while also retroactively exposing authorial and legal ambiguities that run to the core of the industry. Though Lee received sole writing credit, Kirby not only penciled but often produced storylines and drafted captions and dialogue independently, creating such characters as the Silver Surface without Lee's prior input. Kirby died in 1994, and his estate filed for copyright termination for the characters that Kirby co-created. Marvel sued, arguing that he had been contracted on a work-for-hire basis. The Supreme Court was preparing to hear the case in 2014 when the recently Disney-purchased Marvel Entertainment settled out of court for an undisclosed sum. Had the Court ruled in favor of Kirby' heirs, not only would Marvel's blockbuster film franchise have been affected, but the precedent would have threatened all of Warner Brother's DC copyrights too. Lee continued writing the series for a year following Kirby's departure to DC in 1970, leaving the series after #115 (October 1971).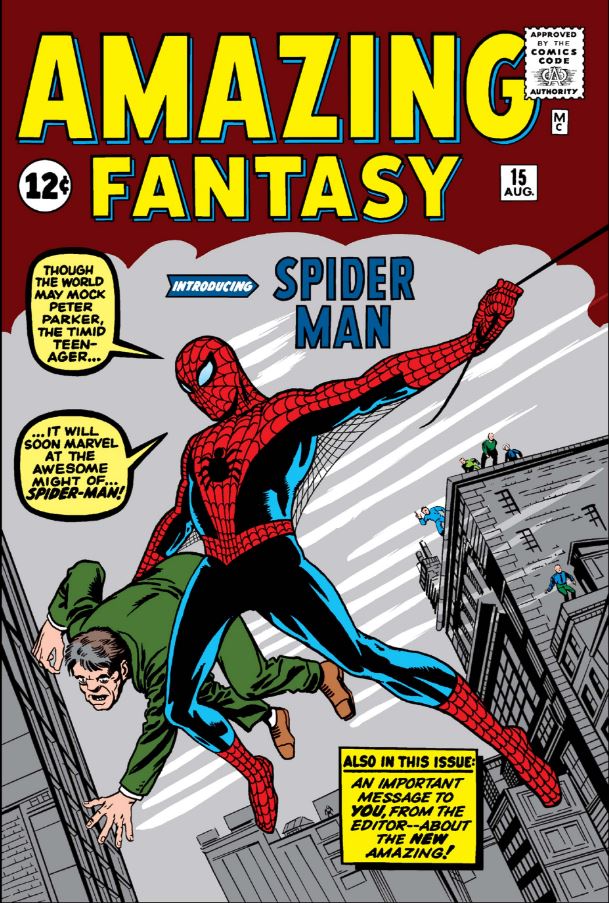 Lee & Ditko's Spider-Man in Amazing Fantasy and The Amazing Spider-Man (1962- 66).
Although Kirby drew the first sketches of the character, Lee chose to collaborate with Steve Ditko, who had been working with Atlas/Marvel since 1955. Martin Goodman had little faith in the character, largely because teenagers were typically cast as sidekick not lead heroes, slotting the original eleven-page episode in the series-cancelled Amazing Fantasy #15 (August 1962). Increased sales however allowed Lee to reintroduce the character six months later in a new title, The Amazing Spider-Man #1 (March 1963), which has run continuously since. Ditko penciled and inked every issue through #38 (July 1966), after which he left Marvel for Charlton Comics. By the end of their collaboration, tensions between Lee and Ditko grew so high that the two reportedly no longer communicated directly, with Lee receiving Ditko's completed artboards through a third party. Unlike Kirby, Ditko objected to Lee's so-called Marvel Method in which pencillers worked without scripts and so assumed uncredited and uncompensated writing duties. Lee continued officially to write the series until #110 (July 1972).
Jim Steranko's Strange Tales, Nick Fury: Agent of S.H.I.E.L.D., and Captain America (1967-69).
Jim Steranko applied for a position at Marvel in 1966 and, after auditioning by inking two unused pages of Jack Kirby's original 1965 Nick Fury draft (Steranko 2013: 330-1), Stan Lee assigned him to "Nick Fury, Agent of S.H.I.E.L.D." in the split-feature Strange Tales. Steranko inked Kirby's twelve-page layouts for #151-153 and then wrote and produced all art from #154 (March 1967) to #168 and, when the series switched to twenty-page installments, #1-3 and #5 (October 1968) of its own title. After producing the covers for #6 and #7 (based on Salvador Dali), he created Captain America #110, #111, and #113 (May 1969), which featured crossover appearances by H.Y.D.R.A. and Nick Fury. Though Steranko's total output was modest and, as evidenced by others' fill-in work for Nick Fury #4 and Captain America #112, not always produced on deadline, his art was the most innovative since Will Eisner's in the 1940s, overturning the layout norms set by Kirby during the preceding decade. Steranko however disliked the editorial changes Lee sometimes imposed. On #111, for example, a panel sequence was to read counter-clockwise, but Lee reordered the talk balloons so the images and dialogue contradict in the published version (Lee, Kirby & Steranko: 2014: 217, 280). As a result, Steranko produced only cover art for Marvel titles into the early seventies.
O'Neil & Adams's Green Lantern Co-Starring Green Arrow (1970-72).
Neal Adams began his comics career illustrating newspaper strips in the early sixties, before starting at Warren and DC in 1967 and Marvel in 1969. Dennis O'Neil began as a writer at Marvel in 1966, before moving to Charlton and then DC where he famously reinterpreted Wonder Woman by eliminating the character's powers and iconic costume in 1969. Like Steranko, Adams and O'Neil are often cited in the transition from the Silver to the Bronze Age. They first worked together on two issues of X-Men and two issues of Detective Comics published at the start of 1970, but they are remembered for their redesign of Green Lantern, which beginning with #76 (April 1970) included Green Arrow. Though Adams' layouts are often as innovative as Steranko's, his longest-lasting influence is the comparably photorealistic style he brought to the genre: "If superheroes existed, they'd look like I draw them" (Smith 2011). O'Neil brought a similar level of realism to the series by portraying Green Lantern outgrowing the naïvely simplistic understanding of good and evil that had defined superhero morality since the 1930s. After the title was cancelled with #89 (May 1972), the series finished as a back-up feature in four issues of Flash.