October 17, 2016
Top 8 Superhero Comics, 2001-2016
My book editor wants an annotated list of "key works" for the superhero genre, and so here's a draft of the third and final installment. The adjective "key" is intentionally ambiguous, and the focus is on authors. As before, I'm limiting myself to only four works per era. The Fourth Code Era begins when Marvel officially dropped the Comics Code in 2001, so the first time the Authority didn't have authority over a majority of the industry. And the Post-Code Era begins in 2011 when DC dropped out too and the Code ceased to exist. We're only five years into that current period, so the last four works here are the most tentative.
Fourth Code Era, 2001-2011:
Bendis & Gaydos' Alias (2001-03). Brian Michael Bendis is one of the most prolific Marvel writers of the 21st century. He wrote Ultimate Spider-Man (2000-2009), has been the primary author of multiple Marvel cross-over event series, including Avengers Disassembled (2004), House of M (2005), Age of Ultron (2013), and Civil War II (2016), and as of 2016 was writing Spider-Man, Guardians of the Galaxy, and Invincible Iron Man. He partnered with artist Michael Gaydos to create Alias #1 (November 2001) through #28 (January 2004), after which he continued the characters Jessica Jones and Luke Cage in The Pulse and New Avengers. Gaydos, who also works in fine art and graphic design, renders his characters in a strikingly less idealized style than standard superhero comics art, with little or no attention to muscular and sexualization, while employing overlapping panel arrangements that highlight atypical amounts of undrawn gutter space. Gaydos' approach parallels Bendis' avoidance of standard superhero story tropes, including costumes and fight scenes. Alias is also notable as the first series published under Marvel's MAX imprint, created for the equivalent of R-rated content when the company stopped working under the Comics Code. This series is collected under the title Jessica Jones: Alias, and Bendis and Gaydos reunited to continue the series in 2016.
Morales & Baker's Truth: Red, White & Black (2003). The idea of a World War II super-soldier program mirroring the infamous Tuskegee Syphilis experiments, in which the U.S. Public Health Service intentionally infected and left untreated hundreds of black men, originated from a comment made by Marvel publisher Bill Jemas to Marvel editor Axel Alonso (Carpenter 2005: 53-4). Alonso solicited a proposal from writer Robert Morales, and Kyle Baker, who had illustrated a Vibe Magazine comic strip with Morales, penciled and inked the series, #1 (January 2003) – #7 (July 2003). Alonso required changes when Morales' script drafts veered too far from the Tuskegee events, but the tragic ending in which the black Captain America, Isiah Bradley, suffers permanent brain damage akin to Muhammad Ali, was Morales' (Carpenter 2005: 54-5). The story is a uniquely grim but historically honest reimagining of Marvel's Golden Age. Baker's art is significant for stepping outside of the standard range of representational styles by taking the most overtly cartoonish approach in superhero comics at that time. The following year, Morales wrote eight issues of Captain America, with the last, #28 (August 2004), featuring both Steve Rogers and Isiah Bradley in the "Captain America & Captain America" cover banner and logo. Bradley's appearance and the debut of his grandson, the Patriot, in Young Avengers #1 (April 2005) established the events of Truth within official Marvel continuity.
Simone's Birds of Prey (2003-07, 2010-11). In 1999, Gail Simone co-founded the website Women in Refrigerators, which featured her list of dead or depowered female characters, created in response to Green Lantern #54 (August 1994) in which the hero finds his murdered girlfriend in his refrigerator. She wrote for Bongo Comics' The Simpsons, and then for Marvel's Deadpool in 2002, before moving to DC's Birds of Prey in 2003. Simone wrote #56 (August 2003) to #108 (September 2007) of the first series, as well as #1 (July 2010) – #13 (August 2011) of the second. She significantly expanded the all-female cast and the role of Barbara Gordon, the original Batgirl, who leads the group as Oracle. Wheelchair-bound after the rape and maiming depicted in Alan Moore's 1988 The Killing Joke, Oracle is one of the few disabled but non-superpowered superheroes in the genre. Simone collaborated with a range of artists, including penciller Nicola Scott who continued to work with her on her next project, Secret Six, in 2009. Simone also moved to Wonder Woman in 2008, becoming the title's longest running female creator, Batgirl in 2011, and Red Sonja for Dynamite in 2013.
Rucka & Williams' Batwoman (2009-10). Following the Neil Gaiman-scripted funeral of Batman in the previous issue, Detective Comics #854 (August 2009) – #863 (May 2010) featured the redesigned Batwoman as its cover series. Greg Rucka wrote all ten episodes, and J. H. Williams III penciled all but two. The original character was introduced in 1956 as a love interest for Batman and so arguably a response to Frederick Wertham's claim that Batman and Robin were lovers. The rebooted lesbian character was introduced in 52 #7 (June) and as the cover feature of #11 (July 2006). She was DC's highest profile LGBT character, a theme Rucka continues by introducing Police Captain Maggie Sawyer (a lesbian character created by John Byrne for Superman in 1987) as her long-term love interest. Williams' use of two-page spreads and complex framing sequences are some of the most innovative layout designs since Steranko's and Adams' late 60s work. Batman returned as the cover feature of Detective Comics #864, and Batwoman, as co-written and drawn by Williams, moved to her own ongoing series with the one-off Batwoman (January 2011) and Batwoman #1 (November 2011).  The Rucka-Williams' Detective Comics #854-860 are collected under the title Batwoman: Elegy.
Post-Code Era, 2011-present:
Fraction & Aja: Hawkeye (2012-15). Matt Fraction, husband of fellow Marvel writer Kelly Sue DeConnick, wrote the complete series, #1 (October 2012) – #22 (September 2015), with several artists, including David Aja who penciled roughly half of the issues. Aja's style is reminiscent of David Mazzuchelli's Batman: Year One and Daredevil: Born Again art, but incorporates non-naturalistic elements of abstract signage and diagrams to innovative effect. The series was one of the most acclaimed during the period of its three-year run, especially #11, an episode told from the perspective of the main character's dog, and #19, an episode told primarily in American Sign Language. Both Aja and Fraction worked and continue to work on a wide range of Marvel titles.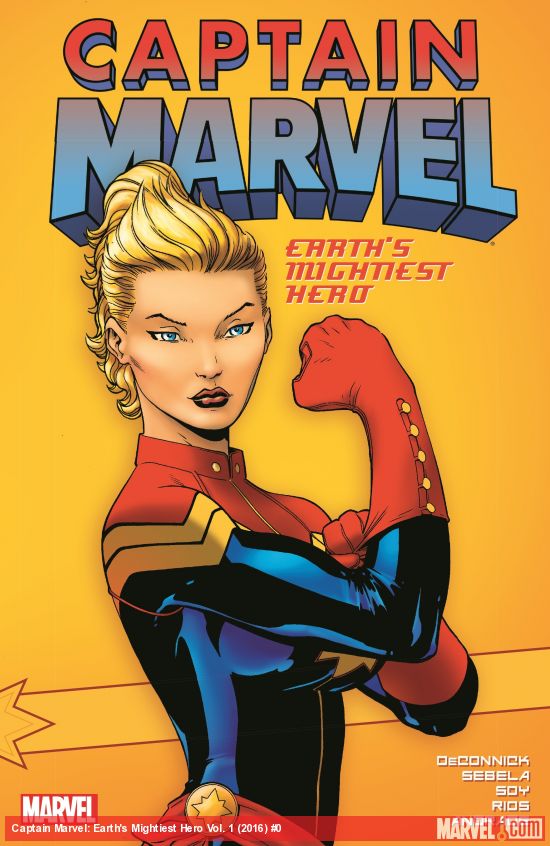 De Connick's Captain Marvel: Earth's Mightiest Hero #1-17 (2012-15). The original superhero Captain Marvel was created by Bill Parker and C. C. Beck for Fawcett Comics in 1939, after which DC sued for copyright infringement. The court battle continued until the early 50s, when Fawcett closed its comics division. Marvel later trademarked "Captain Marvel" by creating a new character with the same name in Marvel Superheroes #12 (December 1967). The supporting character U.S. Air Force Major Carol Danvers was introduced in #13, and, after developing her own superpowers, was reintroduced in her own series in Ms. Marvel #1 (January 1977). The character underwent a range of changes, until assuming her predecessor's name in Captain Marvel #1 (August 2012). Working with a wide range of artists, DeConnick wrote the first series, #1-17 (January 2014), and continued through the second series, #1-18 (July 2015). DeConnick is one of the leading writers in contemporary comics; her other recent collaborations include Pretty Deadly with Emma Rios, Bitch Planet with Valentine De Landro, and Parisian White with Bill Sienkiewicz.
Wilson & Alphona's Ms. Marvel (2014-15). After Carol Danvers relinquished the name in 2012, the new Ms. Marvel character and series debuted with #1 (February 2014). Kamala Khan, a Muslim teenager living in Jersey City, NJ, is the first Muslim character to lead a superhero series. The concept originated with Captain Marvel editor Sana Amanat, who grew up as a Pakistani-American Muslim in a predominantly white, Christian New Jersey suburb. She approached writer G. Willow Wilson, who was born in New Jersey and moved to Cairo after converting to Islam in her early twenties, and artist Adrian Alphona to create the series. Kamala Khan's origin story both reiterates standard superhero tropes, while simultaneously overthrowing them, especially through Kamala's relationship to her Pakistani parents and community. Alphona's art departs from the comparably naturalistic of style of his 2003-04 Runaways in favor of a style that exaggerates human proportions and so offsets Kamala Khan's shapeshifting ability. Alphona was the primary artist for the original run, drawing #1-5, 8-11, and 16-19. Wilson continued as writer of the ongoing All-New All-Different series beginning #1(January 2016), with Alphona appearing sporadically as a co-artist.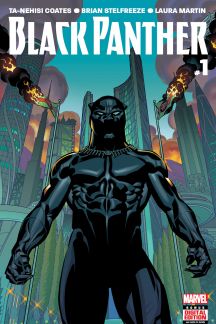 Coates & Stelfreeze's Black Panther (2016-17). Journalist and senior editor Ta-Nehisi Coates is well-known for his articles in The Atlantic and New York Times. His Between the World and Me won the National Book Award for Nonfiction in 2015, the same year the MacArthur Foundation awarded him its renown "genius grant" and Marvel invited him to write an eleven-issue Black Panther series. Following an opposite trajectory as Neil Gaiman, who began in comics and established a high-profile literary career afterwards, Coates is the most prestigious author from outside of comics to enter the genre. He partnered with Brian Stelfreeze, a Marvel and DC artist since the early 90s. #1 (June 2016) premiered as one of the year's top-selling comics, leading to a spin-off series, World of Wakanda, to be co-written by Coates, poet Yona Harvey, and fiction writer and essayist Roxane Gay, who is an associate professor of English and literary journal editor. Harvey and Gay are Marvel's first female African American writers.