Tag Archives: Keiler Roberts
Koyama Press is scheduled to close shop by 2021, adding a bittersweetness to each new but last release. It's like watching the final season of your favorite TV show–or your favorite network, since Koyama's final batch of books looks like a prime-time schedule heavy on returning hit series. Keiler Roberts, Michael DeForge, and Patrick Kyle have each been with the press for several years. But only Roberts' Rat Time is literally a continuing saga, picking up where her graphic memoir Chlorine Gardens left off in 2018.
Roberts draws her school-age daughter Xia a little taller, but the rest of her cast of family and friends are the familiar minimalist line drawings of before, their world still composed of the same thin black lines as the gutters framing it. Though the effect is a species of realism, Roberts has no patience for crosshatching, leaving the interiors of her shapes intentionally flat and shadowless. Though animals and Barbie doll faces tend to be more precise than humans, when Roberts fully breaks style with a suddenly detailed and naturalistically rendered image (always, it seems, of a dead family pet), it's a reminder that the rest of the book's rough shapes and choppy lines are not determined by the limits of her skill but by the choices of her stripped-bare aesthetic.
Lisa Hanawalt on the back-cover blurb calls Roberts' books "diary comics," but I disagree. For an actual example of a diary comic, checkout Eleanor Davis's You & a Bike & a Road, which was composed as an actual diary one entry at a time. The flow and arc of Rat Time are too artful to be the product of daily happenstance. These aren't snapshots in a family photo album either, because Roberts wanders unannounced into memories ranging from playing with her childhood dolls to teaching her first catastrophically bad community college course. The transitions are brief and intuitive, providing just enough structure for the juxtapositions (Xia plays with dolls too; skeletons are more useful than cadavers when teaching drawing) to do the storytelling.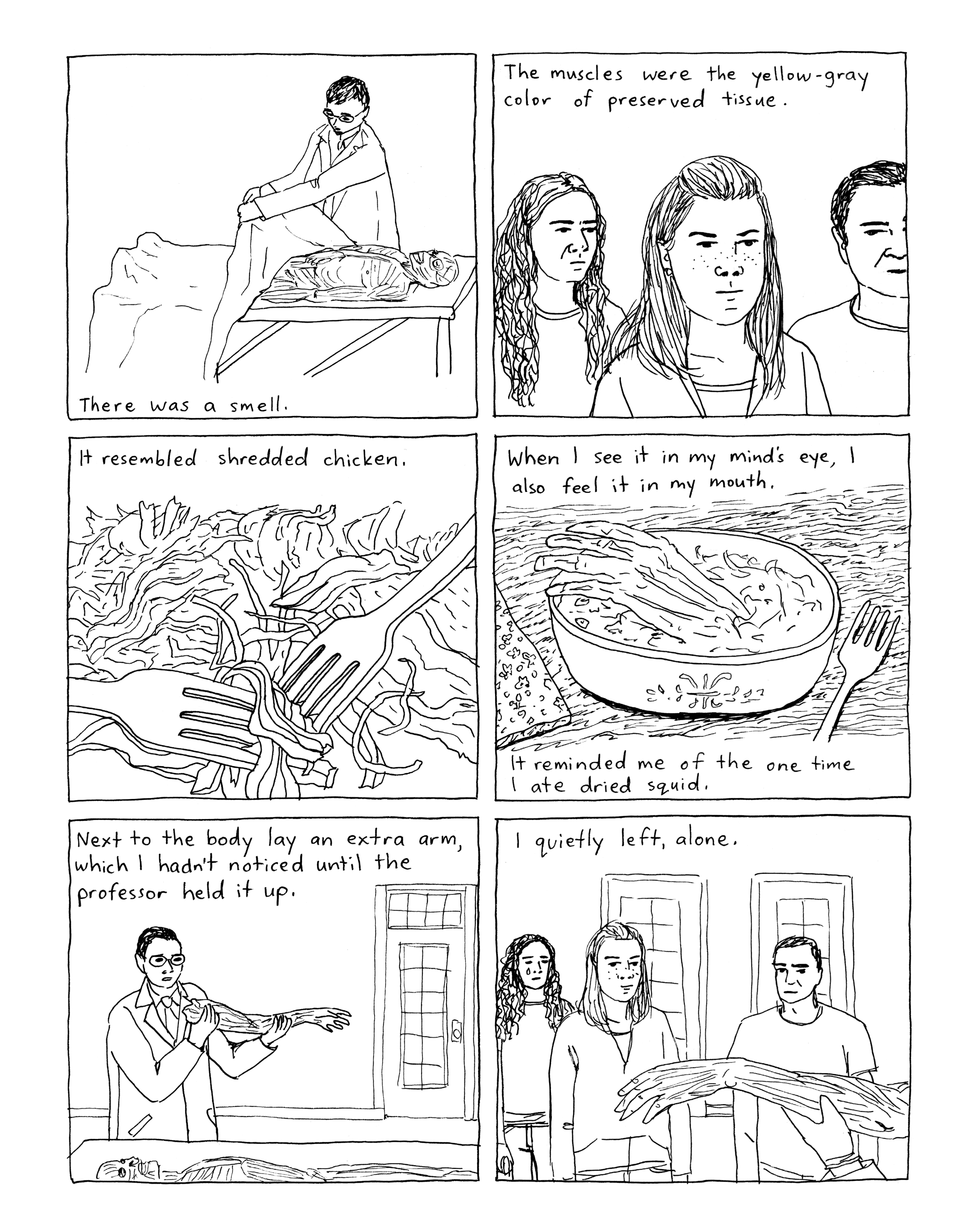 Maybe "story" is the wrong word. Although the one- and two-page family vignettes are punctuated with scenes in her therapist's office as Roberts continues to struggle with bipolar disorder and early stages of MS (plot points carried over from last season), the book doesn't feel plotted and certainly not dramatic. Roberts is aiming for the opposite effects, rendering a kind of gently comic, low-suspense universe made more realistic by its absence of artifice.
When Roberts attempts to write fiction, it has an uncanny resemblance to the nonfiction of her life. Even when she plays dolls with Xia (it must be an inheritable trait), Roberts can't escape mundane realism. That's a good thing. Though she foreshadows the book's likely closure point when her narrator declares, "I'm either going to figure out how to write fiction or get a better idea of why I don't," neither of the promised outcomes transpires. That's because foreshadowing is for fiction. She already knows why she doesn't write fiction. It's too contrived. So is traditional memoir, which is why she's a master of understatement and inference.
Roberts doesn't have to tell her readers that all of these recollections of dead pets are about her aging parents and the not-yet-detectable decay of her own body. Stating it would make it too dramatic, too obvious, too much like fiction. The pets are also about the pets. Roberts' mother worries she touched the dog more than she touched Roberts as a child, but that's okay. The transitory companionship of animals is superior to human companionship in many ways. Some of the most touching moments in Rat Time are full-page, uncaptioned images of pets and humans in quiet contact. Since backyard burials and memorial photos are an ever-expanding multi-generational tradition, it's good that pet shops provide an endless supply of dogs and rats (the Roberts family has a thing for rats).
The phrase "Rat time" originated as the after-dinner time when Xia played with her pets. After she cycles through a few almost identically named rodents, "rat time" comes to resonate with absence too. While Chlorine Gardens readers will recall the recent death of Roberts' grandfather, Rat Time only nods at that fact through his unacknowledged absence and her grandmother's unremarkable singleness. This is just how things are. No need for drama or commentary. When Roberts showed Michelangelo's Pieta to her first Art History class, she was embarrassed because she had nothing to say about it. Though "Let's all just look at it for a few minutes" isn't the best lesson plan, it's not a bad life strategy.
Roberts takes us through a curated set of vignettes, creating a fragmented but still cohesive flow of events that resists the norms of plot while still providing its pleasures. There as so many small and touching and gently comical moments: a fond memory of a self-effacing professor, her imaginary Dear Gratitude Journal filled with ironic absurdities, cracking her therapist up by saying their work here is done, cooking and tampon catastrophes, a list of things that make her cry, a list that makes her happy.
The book itself has the logic of a list, as though Roberts is still assembling it, still thinking through each entry even as she jumps to the next. The past has that open-ended feel too. That self-effacing professor accidentally lost a ring while lecturing, and the sound of it bouncing away stays with Roberts. She still wonders if the women ever found it. One of my favorite images is Roberts sitting on her bed surrounded by open books with the narrated caption: "It doesn't bother me to read parts of books and never finish them."
Again, not a great lesson plan, but it's the only life strategy there is.
[A version of this post and my other recent reviews appear in the Comics section of PopMatters.]
Tags: Keiler Roberts, Koyama Press, Rat Time
Keiler Roberts lives in a deadpan universe ruled by a bipolar God. Her graphic memoir Chlorine Gardens is a fractured chronicle of self-deprecatingly hilarious yet harrowingly moving vignettes from the edge of her private yet oh-so-familiar abyss. Really, she has it pretty good: a comfortable life in a suburban home filled with loving family members and ample art supplies. Also, her grandfather just died and she's been diagnosed with MS. But rather than best-of-times worst-of-times rants, Roberts' humor is perpetually even-keel—a line as endearingly flat as the never-quite-smiling, never-quite-frowning mouths she draws on her and family's faces.
Given her anti-sentimental tone, Roberts' drawing style is appropriately sparse: thin, black contour lines give her world realistic proportions, but without crosshatched shadows and depth. All shapes are empty shapes. The universe is not only colorless; it rejects gradations too. But her always simplified renderings are never cartoonishly exaggerated either. Though any photographic source material feels distantly filtered, its underlying realistic integrity remains. This is our world—just less so.
Roberts matches the visual flatness of her panel content with similarly flat layouts of mostly 3×2 and 2×2 grids, punctuated by occasional full-page images. Each panel is framed by the same thin black lines that shape the images, gently challenging the conventional illusion that the white of the page background visible in the gutters is any different from the white of the story-world spaces inside the frames. In both cases, there just isn't a lot holding everything together.
And yet her world, her family, Roberts herself—they do hold together, in part from the warmly ironic wit she threads through each scene. As a parent who kept a journal of the most endearing and inappropriate things my children said growing up, I know the pitfalls Roberts avoids as she chronicles her home life with an early school-aged daughter. In other hands, the six-year-old Xia—even as she's echoing her mother's "shit" and "goddamned" expletives—would be too cute, just a variation of parental bragging.
Instead, moments with Xia, like Roberts' self-portrayal generally, is grounded by the graphic memoir's overarching tone of struggle. Yes, life may be pretty goddamned good—but what's that have to do with being happy? The memoir opens with Roberts telling Xia her birth story, yet by the end of the sequence she is clearly stating things not meant for her daughter's ears. "I think," Roberts' drawn self later tells her viewers, "I started making comics so I could stop fearing the loss of my irreplaceable things."
"Things" are central. Roberts lists some of her favorites and least favorites—including Coltrane's jazz cover of "My Favorite Things." Her favorite glass appears in a wallpaper pattern beside a vodka bottle on the inside of the cover. It appears again on the inside of the back cover, except beside a carton of milk. Somewhere between, she mentions that she's stopped drinking and that "I never use my favorite glass anymore because I'm afraid I'll break it." She later lists first symptoms of MS, jokingly calling each her favorite thing too. "Nothing," she explains, "exists without meaning and sentimental value," and so "every object blooms with associated memories and feelings." And as though to prove it, she ends the memoir with her mother lamenting that she has only "four of those wonderful frozen cheeseburgers from Costco left. They stopped carrying them." The comment would seem aggressively mundane, and though Roberts' character responds with only a simple "I'm sorry," ten pages earlier she drew her dying father eating one of those cheeseburgers, calling it the moment she felt the loss of him.
Much of Roberts' skill is in her understated use of the comics form—which is based on gaps and absences and so kinds of loss too. Roberts often leaves out key, dramatic moments. One panel caption explains that her beloved dog "bit some people," and in the next she's driving him "to the vet to put him to sleep." She avoids not only the biting incident but the immediate drama of its aftermath when the victim presumably contacted authorities who agreed that the dog had to be put down. Instead, Roberts draws her "perfect" pet in the front seat, under the caption: "He sat up calmly." In the next panel, she is alone in an examination room, with her hand on the blanket-covered dog. The panel reads: "Scott was in New York." The understated fact echoes with a blur of emotion—all unverifiable by her expressionless face.
That kind of image and word juxtaposition is another of Roberts' comics skills, the way she plays the two modes against each other for subtle contradictions. When she states that "Scott sometimes watches football," she draws her husband swinging their daughter around the living room as they shout "Touchdown!"—it's unclear whether the TV is even on. When she's explaining the nostalgia-like loss she feels in all objects, "It's a wanting that can't be satisfied," she draws an angled eBay image of a "Barbie mixed lot from the 80's" on the phone held in her hand. The mundaneness undercuts the spiritual depth of her words, as though her internal artist is gently mocking her internal writer.
The effects are subtle, but subtle is as good as it gets in Roberts' universe. She posits a bipolar God to explain how "inconsistently great and terrible his creations are," and then counters that volatility with her own deadpan consistency—though with just enough hint of a Mona Lisa smile to betray the love and joy struggling under the starkly drawn surface of all things.
[A version of this post and my other recent reviews appear in the Comics section of PopMatters.]
[Also, despite my inability to defeat wordpress' obscure and dysfunctional auto-formatting, here's an email conversation I had with the author:
From: Keiler Roberts
Sent: Sunday, September 30, 2018 3:52:00 PM
To: Gavaler, Chris
Subject: Chlorine Gardens review on PopMatters
Dear Chris,
I saw your review of my book on PopMatters. I wanted to thank you for writing it! Clearly, you put a lot of time into reading the book and writing about it, and I really appreciate it. As you know, most cartoonists are not in it for the money. Attention like this really means a lot to me, and keeps me working when I'm feeling unmotivated. I hope you don't mind that I'm contacting you at this email. I had a difficult time finding any info on the PopMatters site for contacting anyone.
There was one thing in the review that wasn't correct, and I was wondering if you possibly could fix it? It was my grandfather who died, not my father. He was 98 and while I miss him very much, it was a sad event, but not devastating. My dad is alive and well and I'm not superstitious, but there's something creepy about reading about his loss.  Please don't think this was the only reason I wanted to contact you. I do really appreciate the review and I want to share it with everyone! I wish I were better at articulating my thoughts regarding what I read, but I guess that's why it's so satisfying for me to read reviews. Someone else can put into words the reaction I had – or help me see what I missed.
Thank you so much!
Keiler
---
From: Gavaler, Chris <GavalerC@wlu.edu>
Sent: Sunday, September 30, 2018 12:54 PM
To: Keiler Roberts
Subject: Re: Chlorine Gardens review on PopMatters
Keiler, I'm so sorry for that terrible error in my review! I'll contact my editor right away and make the correction.
Sent: Sunday, September 30, 2018 4:05:20 PM
To: Gavaler, Chris
Subject: Re: Chlorine Gardens review on PopMatters
My favorite line of yours is "Yes, life may be pretty goddamned good—but what's that have to do with being happy?" That is absolutely it. I think I can stop therapy now that I finally understand! Really, your writing is so beautiful. You understood things that most people won't.
Sincere thanks,
Keiler
---
From: Gavaler, Chris <GavalerC@wlu.edu>
Sent: Sunday, September 30, 2018 2:13 PM
To: Keiler Roberts
Subject: Re: Chlorine Gardens review on PopMatters
Keiler, you're so kind. And I'm so pleased that my interpretation of your work resonates accurately with you.  It may help that I come from a deadpan family myself.  I'm exploring the comics form myself now and you are a great model.  You handle complex, subtle material will such skill.
Chris
Sent: Monday, October 1, 2018 11:29:39 AM
To: Gavaler, Chris
Subject: Re: Chlorine Gardens review on PopMatters
I tend to wait a couple months before reposting my PopMatters reviews at my own site. In addition to correcting that terrible error you pointed out, I was wondering if I could include our correspondence below. If you would rather it remain private, I understand completely. Just wanted to check.
Thanks,
Chris
Sent: Monday, February 18, 2019 9:11 AM
To: Gavaler, Chris <GavalerC@wlu.edu>
Subject: Re: Chlorine Gardens review on PopMatters
Hi Chris,
Please feel free to share anything you want! Thank you again for writing the review. Coincidentally, I spent all morning journaling about "things" and was thinking about how you picked up on that theme in my book. Marie Kondo has everyone reconsidering their belongings now but I wonder how much of it will become a real reflection on what different objects do to us, and how much will be people trying to follow her advice and missing something in translation.
Best,
Keiler
---
From: Gavaler, Chris <GavalerC@wlu.edu>
Sent: Monday, February 18, 2019 10:05 AM
To: Keiler Roberts
Subject: RE: Chlorine Gardens review on PopMatters
Keiler,
I just watched the Netflix trailer. I predict Kondo and your journaling will lead to another cool chapter for your next book—which I look forward to reading!
Chris
---