Tag Archives: Mita Mahato
I've admired Rose Metal Press for awhile now.
After my spouse (poet Lesley Wheeler) handed me Mar Romasco Moore's Ghostographs after it was published in 2018, I ordered Del Samatar and Sofia Samatar's Monster Portraits, before picking up a copy of Loren Erdrich and Sierra Nelson's I Take Back the Sponge Cake from the Rose Metal Press display table at the AWP conference in Portland.
All are hybrid works of sequential images and words – what I call comics.
When Leigh Ann Beavers and I published Creating Comics: A Writer's and Artist's Guide and Anthology (Bloomsbury 2021), it was the first textbook to unite writing and image-making in a way that did not rely on traditional comics conventions but instead challenged writer-artists to create the kind of works that Rose Metal Press might publish. Now, happily, it's joined by the Rose Metal Press Field Guide to Graphic Literature: Artists and Writers on Creating Graphic Narratives, Poetry Comics, and Literary Collage. Rather than a traditional textbook, the guide amasses twenty-eight comics creators, each presenting a discrete exercise with opening commentary and a related excerpt of their own work. The results are invaluable.
Most guides for aspiring comics creators divide the field in two. Writers might read O'Neil's The DC Comics Guide to Writing Comics or Bendis' Words for Pictures: The Art and Business of Writing Comics and Graphic Novels. Artists might study Lee and Buscema's How to Draw the Marvel Way or Hart's Simplified Anatomy for the Comic Book Artist. Eisner's Comics and Sequential Art, McCloud's Making Comics, and Abel and Madden's Drawing Words and Writing Pictures present more holistic approaches, but they do so while conforming to conventional understandings of the form and so don't encourage creators to explore beyond traditional panels, frames, gutters, and cartooning and into the wider and less defined art of image-texts. Barry's excellent Making Comics overcomes creative obstacles for students who think they aren't trained enough to make art, but the approach does not challenge creators to develop beyond culturally learned iconic imagery and comics layouts.
Co-editors Kelcey Ervick and Tom Hart's Field Guide stands out as the most usefully eclectic approach, one ideal for such a wide-ranging form. I'm also honored to be included in Ervick's introduction:
"Chris Gavaler argues that comics as a form should 'no longer [be] defined in opposition to fine art.' He critiques what he sees as McCloud's ultimate emphasis on the question of 'Will readers get the message?'—which, according to Gavaler, misguidedly prioritizes clarity over art. With an aim of raising comics to the level of an artform, Gavaler ultimately defines comics 'as widely and inclusively as possible: the art of juxtaposed images.'"
Ervick and Hart take a widely inclusive view too. Rather than redefining comics, they adopt the similarly broad but newer (and so less historically encumbered) term "graphic literature," subdividing it into the three categories named on their cover and given stipulated definitions in the introduction: graphic narratives, poetry comics, and literary collage. While comics scholarship has exhausted itself in the pursuit of consensus definitions, those disagreements are happily irrelevant here, since the focus is on creative production, not scholarly analysis.
Ervick's scholarship is still of interest though. Her history includes both conventional comics (what I would call works in the comics medium) and a range of image-texts and sequenced images. While others have included (and debated) works that long pre-date the coining of the term "comics" in the 1890s, Ervick goes beyond ancient scrolls and illuminated manuscripts to place more recent works in revealing relationship. While I'm familiar with Tom Phillips' A Humument (a classic of erasure poetry and visual collage), I have never seen it discussed in the context of 1960s Silver Age comics, and Basquiat's eight-painting sequence The Comic Book is similarly enriched by its 1978 comics context.
The history achieves the guide's goal of "erasing the boundaries and focusing instead on the connections." The editors' arrangement of contributions does too. While the contents are organized by craft, a later "alternate" table of contents reminds readers how reductively unhelpful rigid divisions (graphic narratives, comics journalism, graphic memoir, abstract comics, etc.) would be. Reading through the selections instead emphasizes unexpected juxtapositions, with illuminating leaps between, say, cartoons published in magazines and newspapers and artwork curated for the Whitney Museum of American Art. The effect is not only eclectic; it's democratic.
Though I'm tempted to imagine different orders and clusters, that's sort of the point. What matters is the contributors and every reader's ability to wander freely between them. When I became comics editor of Shenandoah magazine in 2018, Mita Mahato was the first comics creator I solicited – so I'm personally pleased to see her included here. Trinidad Escobar is a Shenandoah alum too, and Kristen Radtke appears in the anthology section of Creating Comics as well. I would have included Bianca Stone – probably the author most associated with the term "poetry comics" – but her publisher never responded. I shared an MFA panel with Mira Jacob just before her graphic memoir came out in 2020, but I'm most pleased to see Deborah Miranda featured in the Rose Metal Field Guide.
Deborah taught creative writing and Native American literature in my English department for over two decades, before retiring and moving back to the west coast last year. She is dearly missed. Her inclusion is striking because she's not a comics creator. Her Bad Indians: A Tribal Memoir is a mixed-genre collection of poetry, fiction, and nonfiction prose, with a few pages of image-text art. The editors classify those works as poetry comics (or comics poetry — the alternate table of contents includes both terms), demonstrating how vast graphic literature is and how difficult-to-categorize many of its examples are.
Deborah begins with a cultural object (a blood quantum chart that she colors with a "totally fake 'Indian' design"). It's impossible to give all the contributors the descriptions they deserve, but you might glean a sense of the diverse range of approaches by their starting points.
Begin with:
a connect-the-dots puzzle (Parsons).
a work of art, music, or literature and as many different kinds of mark-making tools as you have (Potter).
rough paper, a soft pencil, a steel pen (Hart).
a short phrase in a nearby book and images that you have in your living space (Lee).
a page from an old book you have never read before (Sutin).
a poem (Stone)
a bin of old photographs and an abandoned draft of writing (Bendorf).
reference images — family photos, vintage postcards, film footage – to explore place (Bui).
fodder (clothing catalogs, maps, old receipts, grocery store fliers) and an experience of loss (Mahato).
a photograph of someone or something important to you (Sikelianos).
an emotion to visualize through concrete imagery (Haldeman).
a bedrock question to explore (Donahue).
a news story that interests you (Neufeld).
a news article that resonates with you (Knight).
dinner conversation between a romantic couple after one saw the other leaving a hotel earlier in the day (Jacob).
a favorite character from a story or film and a troubling idea they might dream about (Roberts).
a cartoon version of yourself (De La Cruz).
a fantastical version of yourself (Andersen).
a memory to bring to life in a one-page comic (Peña).
something that happened to you that you don't fully understand (Radtke)
four evenly drawn panels on a sheet of graph paper and a place or a route that you feel strongly about (Rothman)
a person, a place, a conversation, and twelve panels drawn across two pages (Koch).
a six-panel page and a character with a hidden object to be revealed in the next full-page image (Escobar)
a story to draw in two different formats (Fujimoto).
a story to draw multiple times in different formal arrangements (Galloway).
a one-page scene to draw in different styles (Madden).
marks drawn in sync with your exhales (Brialey).
Best of all are the two to five pages of artwork by each creator, most in full color. I suspect most reader will begin by flipping through them all for a dizzying range of visual inspiration. Or at least that's how I began.
Leigh Ann and I are teaching our Creating Comics course again in May, so now I'm rethinking how to incorporate the Field Guide. Any comics-making course should include it.
Tags: Creating Comics, Deborah Miranda, Kelcey Ervick, Kristen Radtke, Leigh Ann Beavers, Mita Mahato, Tom Hart, Trinidad Escobar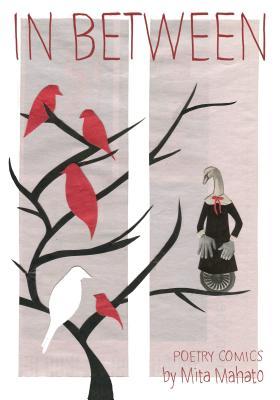 I first came across artist Mita Mahato through her poetry comics collection In Between published by Pleiades Press in its Visual Poetry Series. I recommend it and all of the other works available at Mahato's website, but most of all I want to recommend her most recent comic, "Lullaby," published this month at the new Shenandoah. A segment is featured on the cover:
Shenandoah was founded in 1950, but I'm calling the journal "new" because, after an impressive quarter century with Rod Smith at the wheel, editorship just passed to Beth Staples. Her first issue went live last Friday. Since I'm also Shenandoah's first comics editor, I'm feeling pretty damn good right now. In addition to an amazing range of poetry (Lesley Wheeler is the new poetry editor), translations (Seth Michelson is the new translations editor), fiction, and nonfiction, the issue includes two comics artists: Mita Mahato and Tillie Walden. I'll say more about Walden next week, but right now I want to share our interview with Mahato.
CG: Unlike the majority of literary and artistic forms, "comics" does not have a single definition or set of requisite qualities, and so not all viewers will agree whether a given work is or is not a comic. Happily, your "Lullaby" falls into the exciting, contested, in-between area. Many of the conventions most associated with comics are absent: speech balloons, panels, gutters, even identifiably repeating characters. Shenandoah is publishing it as a comic—the first ever published by the journal—but what do you consider "Lullaby"?
MM: Working with layers of paper to construct my images means that I experiment with the comics medium in different ways than artists who work with ink. The vocabulary is similar, though. During the creative process, I'm usually thinking about panels and gutters—areas for content and areas for visual lacunae. If you look closely at "Lullaby," you might identify images that operate as panels—like the rectangles and other shapes that represent sea and land. If we do approach these shapes as panels, then we might consider how the gutters between them function. Do they encourage readers to imagine narrative bridges, or do they suggest spatial barriers? Another way that the comics medium inspires my work is in its use of dissonant forms of signification. In most comics, that dissonance comes through the interplay of word and image. In "Lullaby," I tried to invite it by playing with different visual signifiers—for example, the photographic hands and the more abstract, cut-paper imagery.
That is all to say that the creative process that went into "Lullaby" is indebted to the comics medium and I'd consider it a comic. Readers might think differently—and I welcome those complicating responses. I think it's pretty wonderful that Shenandoah is providing a platform for artists and readers alike to explore the expansive possibilities of the comics medium. And I'm thrilled that "Lullaby" will be part of that conversation.
CG: Comics were traditionally drawn on paper, first in pencil, then finished in black ink, with color added during the printing process. We understand your process is very different. Can you give us a sense of how you work?
MM: My process can take a few different paths, but more often than not, I start with pencil on paper, too. Most of the visual elements you see in my work began with a sketch that served as the basis for the cut-paper images. Once I draw a "template," I use it as a guide for cutting paper shapes that I paste together to form the final image (think of a how a sewing pattern works). Sometimes, the cutting is more instinctive than methodical—like the waves or crop rows in "Lullaby" (which were done without a template) or when I use traditional collage technique. Once a page is done, I scan it, complete any needed cleanup in Photoshop, and then print it. Because I work in layers, the scanning process retains shadow lines, which is what makes one-dimensional images appear to have texture and tooth.
CG: "Lullaby" is also a wordless comic. Some of your other works include words, either as narration or as speech in semi-traditional balloons, but in "Lullaby" you leave the non-narrative imagery to do all of the work. But there is a sequence, a kind of logical or at least intuitively evocative progression. Did you have a traditional story in mind? And however you began, why were words the wrong means to express it?
MM: I had the title in mind pretty early on and it might provide a way into answering these questions. A "lullaby," of course, is a song that aims to put one to rest, sometimes (as in "Rock-a-bye Baby") slipping into dirge territory and threatening ultimate rest. The images that sing the dark song of this lullaby were inspired by the plight of the southern resident killer whales, which are endemic to the Puget Sound region where I live. Human activities, especially those related to river management and chemical pollution, have brought the population of this unique culture of whales down to fewer than eighty individuals. Because the song that "Lullaby" sings is about humanity's undeniable role in species extinction, I wanted to draw attention to collective actions over individual voices. I wanted to spoil the consumer's daydream of quiet seasides. I wanted to expose that the lullaby we are singing to these whales is a deadly hum made up of pleasures and habits that have become so everyday to us that we don't register their impact outside of our own, bored gratification. The absence of words gave me space to orchestrate a visual clatter; I wanted the pages to be loud with the invention, industry, and perspective of free enterprise. Even when we aren't speaking, our presence is constant, crass, deafening.
BS: "Lullaby" is both intensely sad but also incredibly beautiful. How do you see those two emotions—delight and sadness—working together in your work?
MM: I think that any emotion that my art elicits is probably shaped by the very strong feelings that I have about the fundamental and insistent relationship between form and content. Because I gravitate toward themes of loss, I tend to use old, discarded newspaper, magazines, packing tissue, maps, etc. to create the images in my work. Commingling with this generally mournful content, however, is the exuberance I feel in the process. There is something so joyful about taking old paper that is bound for the recycling bin, or paper that is designed for a purpose that is no longer in play, and transforming it for new use. What you may be seeing in "Lullaby" is this dual action that I bring to my work—to grieve and to create. In "Lullaby," all the cut-paper elements (the sea panels, the whales, the boats, the hands, etc.) are made from the color patches in newsprint advertisements or the grayscale images of photojournalism. I like that the resulting images materialize both bereavement and jubilation in their exhibition of new imagery born out of cut and pasted remains. Loss does not always entail transformation, but art made in response to it might at least encourage some pause and some reflection.
[And if you haven't yet, now you really have to check out Mahato's "Lullaby" here.]
Tags: Beth Staples, Mita Mahato, Shenandoah