Tag Archives: Shenandoah
One of the best things about being comics editor of Shenandoah is finding amazing artists and asking them to submit to the magazine. It helps that I review a couple dozen graphic novels every year, mostly from small independent presses, so I'm always stumbling into wonderful new work. This winter the new issue of Shenandoah includes an excerpt of the historical novel-in-progress The Silk Road by Marguerite Dabaie:
I contacted Dabaie after reviewing her first book The Hooka Girl and other True Stories in 2018. It was not about smoking hash in hookah bars and hooking up with "exotic" belly dancers. It's an intentionally scattered memoir in comic strip form of a childhood and young adulthood navigating the cultural hazards of growing up Palestinian in the U.S.
The Hookah Girl is a physically small book, a 6″ x 6″ square, and most of its 17 sections fluctuate between three and five pages, with a few one-, two-, and six-page outliers. The first, an introduction rendered appropriately in comics form, explains Dabaie's ten-year struggle to publish her memoir due to its apparently "provocative" and "overly political" content. One publisher turned it down for fear of being "firebombed" because of the first strip, a sequence of paper doll cut-outs to dress the cartoon figure of "Margo" as a hijab-wearing Muslim, a gun-toting Revolutionary, a harem seductress, a bomb-vested Martyr, and, finally, a Hungry Artist—the closest representation of her actual self: "I'm sorry to break it to you, but some Palestinians enjoy drawing and eating as well."
The title strip, "The Hookah Girl," is only seven panels across a two-page spread, describing a childhood memory of an annual Palestinian Day celebration where a woman carted around a rented hookah and smoked it all day. Both the woman (possibly Dabaie's distant and unnamed cousin) and the event (which included carnival games and bouncing in an inflatable castle) seem unremarkable—which is likely the point. The so-called Hookah Girl isn't exotic because she's Palestinian. She stands out despite it. And though the rent-by-the-hour hookah caught Dabaie's childhood attention, it's the woman's "hand cart"—what Dabaie carefully draws as a metallic dolly—that commands her memory now.
Though I appreciate the indirection of titling the book after the so-called Hookah Girl, "The True Arab Experience" and its subtitle "This handy guide will help you with the Arab-American lifestyle!" are a clearer indication of the collection's goal and tone. Dabaie lovingly documents aspects of her family that feel peculiar to her while growing up in a larger U.S. culture: speaking in an unnecessarily loud voice, mispronouncing letters, overstocking nuts and seeds, pointing with your head and eyebrows, eating grape leaves—a favorite food to be hidden from your non-Palestinian school friends.
The next strip begins as a how-to guide for rolling those grape leaves, before revealing wider details—the aluminum on the TV antennae, the inexplicable garbage bags filled with the leaves—and then the even wider details of how the family drives at night to distant Napa valley grape orchards to snip off the leaves before chased away by police. A traditional memoir would linger on the incident longer, answering many of the implied questions: How often did this happen? Was it unique to her family? Did it seem peculiar to her at the time or only afterwards? Dabaie instead jolts us to the next fragment.
Her accounts also aren't always loving—as when she thanks her father for doubting her artistic skills ("This is all a waste. She's only a girl.") and so spurring her further away from the traditional feminine roles her family expected of her. She also longed to learn music, even trying to play her father's oud and darbuka when he wasn't home because he refused to teach her. He didn't let her practice school instruments at home either because "girls just didn't do those things."
Dabiaie critiques mainstream U.S. culture too—noting without naming her that Gal Godot, an Israeli actress who served in the military and supported the 2014 war in the Gaza Strip that left 2,000 Palestinians dead, plays a feminist goddess fighting to end war. Yes, Dabaie is dissing Wonder Woman—as well as a half dozen other beloved U.S. films that portray Arabs as nonsensical cartoon villains. Yet she is also enamored by Leila Khaled, an airplane-hijacking terrorist and/or freedom fighter—though Dabaie's interest swirls around the woman's contradictions as both a gender-breaking and gender-conforming celebrity.
Whether you agree with Dabaie or not, her point of view is uncommon and so well-worth hearing. She names Palestinian cartoonist Naji Al-Ali as an influence, an exile who "antagonized everyone." Though Dabaie's comics are far gentler, she seems like an exile too, never quite at peace anywhere. Outside of her family home, she's subjected to racist jokes, while inside it she is unable to master basic cultural skills—like extracting the meat from a sunflower seed with her tongue. She renders neither incident as especially harrowing—the joke-teller slumps off in embarrassment when told by someone else that Dabaie is "half-Palestinian"—but it introduces Dabaie as a "nus-nus," or what she terms a "stealth Arab," someone who passes as white but grew up Arabic. Much of her collection involves her trying to explain her culture to non-Palestinians readers, taking pride in textile art or mapping her Italian grandmother's migration route into multicultural Palestine.
Much of her childhood involved similar attempts—though after her one-legged uncle began screaming inexplicably at her friends, she no longer hosted birthday parties at home. She ends the collection in her childhood too, with the statement: "I didn't know what to believe," a revealing refrain that encapsulates her split-culture and leaves her permanently mired in her past.
Dabaie is also a talented artist, who portrays herself and her family in an evolving array of styles that creates an underlying instability to her micro-narratives. While most of her renderings are simplified in a cartoon-sense, they vary between exaggerated caricatures and stripped-down naturalism, an appropriate stylistic span for a fragmented memoir about her own shifting identity. Even her page's frames and gutters are unstable, sometimes decorative, sometimes solid black, sometimes open—further reflecting the memoir's lack of a baseline reality.
Dabaie's is a world in constant flux, unwilling to maintain a single style or even narrative thread for more than a half dozen pages. Her life must be gleaned in fragments and pieced together accumulatively. While gently provocative, The Hookah Girl is primarily entertaining, a brief but engaging glimpse inside one artist's dizzying life experiences.
[A version of this post and my other recent reviews appear in the Comics section of PopMatters.]
Tags: Marguerite Dabaie, Shenandoah, The Hookah Girl and Other True Stories, The Silk Road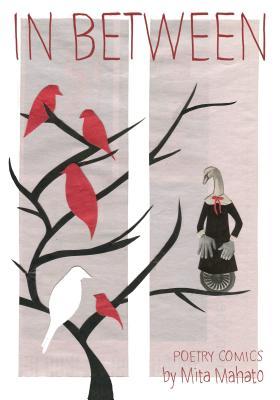 I first came across artist Mita Mahato through her poetry comics collection In Between published by Pleiades Press in its Visual Poetry Series. I recommend it and all of the other works available at Mahato's website, but most of all I want to recommend her most recent comic, "Lullaby," published this month at the new Shenandoah. A segment is featured on the cover:
Shenandoah was founded in 1950, but I'm calling the journal "new" because, after an impressive quarter century with Rod Smith at the wheel, editorship just passed to Beth Staples. Her first issue went live last Friday. Since I'm also Shenandoah's first comics editor, I'm feeling pretty damn good right now. In addition to an amazing range of poetry (Lesley Wheeler is the new poetry editor), translations (Seth Michelson is the new translations editor), fiction, and nonfiction, the issue includes two comics artists: Mita Mahato and Tillie Walden. I'll say more about Walden next week, but right now I want to share our interview with Mahato.
CG: Unlike the majority of literary and artistic forms, "comics" does not have a single definition or set of requisite qualities, and so not all viewers will agree whether a given work is or is not a comic. Happily, your "Lullaby" falls into the exciting, contested, in-between area. Many of the conventions most associated with comics are absent: speech balloons, panels, gutters, even identifiably repeating characters. Shenandoah is publishing it as a comic—the first ever published by the journal—but what do you consider "Lullaby"?
MM: Working with layers of paper to construct my images means that I experiment with the comics medium in different ways than artists who work with ink. The vocabulary is similar, though. During the creative process, I'm usually thinking about panels and gutters—areas for content and areas for visual lacunae. If you look closely at "Lullaby," you might identify images that operate as panels—like the rectangles and other shapes that represent sea and land. If we do approach these shapes as panels, then we might consider how the gutters between them function. Do they encourage readers to imagine narrative bridges, or do they suggest spatial barriers? Another way that the comics medium inspires my work is in its use of dissonant forms of signification. In most comics, that dissonance comes through the interplay of word and image. In "Lullaby," I tried to invite it by playing with different visual signifiers—for example, the photographic hands and the more abstract, cut-paper imagery.
That is all to say that the creative process that went into "Lullaby" is indebted to the comics medium and I'd consider it a comic. Readers might think differently—and I welcome those complicating responses. I think it's pretty wonderful that Shenandoah is providing a platform for artists and readers alike to explore the expansive possibilities of the comics medium. And I'm thrilled that "Lullaby" will be part of that conversation.
CG: Comics were traditionally drawn on paper, first in pencil, then finished in black ink, with color added during the printing process. We understand your process is very different. Can you give us a sense of how you work?
MM: My process can take a few different paths, but more often than not, I start with pencil on paper, too. Most of the visual elements you see in my work began with a sketch that served as the basis for the cut-paper images. Once I draw a "template," I use it as a guide for cutting paper shapes that I paste together to form the final image (think of a how a sewing pattern works). Sometimes, the cutting is more instinctive than methodical—like the waves or crop rows in "Lullaby" (which were done without a template) or when I use traditional collage technique. Once a page is done, I scan it, complete any needed cleanup in Photoshop, and then print it. Because I work in layers, the scanning process retains shadow lines, which is what makes one-dimensional images appear to have texture and tooth.
CG: "Lullaby" is also a wordless comic. Some of your other works include words, either as narration or as speech in semi-traditional balloons, but in "Lullaby" you leave the non-narrative imagery to do all of the work. But there is a sequence, a kind of logical or at least intuitively evocative progression. Did you have a traditional story in mind? And however you began, why were words the wrong means to express it?
MM: I had the title in mind pretty early on and it might provide a way into answering these questions. A "lullaby," of course, is a song that aims to put one to rest, sometimes (as in "Rock-a-bye Baby") slipping into dirge territory and threatening ultimate rest. The images that sing the dark song of this lullaby were inspired by the plight of the southern resident killer whales, which are endemic to the Puget Sound region where I live. Human activities, especially those related to river management and chemical pollution, have brought the population of this unique culture of whales down to fewer than eighty individuals. Because the song that "Lullaby" sings is about humanity's undeniable role in species extinction, I wanted to draw attention to collective actions over individual voices. I wanted to spoil the consumer's daydream of quiet seasides. I wanted to expose that the lullaby we are singing to these whales is a deadly hum made up of pleasures and habits that have become so everyday to us that we don't register their impact outside of our own, bored gratification. The absence of words gave me space to orchestrate a visual clatter; I wanted the pages to be loud with the invention, industry, and perspective of free enterprise. Even when we aren't speaking, our presence is constant, crass, deafening.
BS: "Lullaby" is both intensely sad but also incredibly beautiful. How do you see those two emotions—delight and sadness—working together in your work?
MM: I think that any emotion that my art elicits is probably shaped by the very strong feelings that I have about the fundamental and insistent relationship between form and content. Because I gravitate toward themes of loss, I tend to use old, discarded newspaper, magazines, packing tissue, maps, etc. to create the images in my work. Commingling with this generally mournful content, however, is the exuberance I feel in the process. There is something so joyful about taking old paper that is bound for the recycling bin, or paper that is designed for a purpose that is no longer in play, and transforming it for new use. What you may be seeing in "Lullaby" is this dual action that I bring to my work—to grieve and to create. In "Lullaby," all the cut-paper elements (the sea panels, the whales, the boats, the hands, etc.) are made from the color patches in newsprint advertisements or the grayscale images of photojournalism. I like that the resulting images materialize both bereavement and jubilation in their exhibition of new imagery born out of cut and pasted remains. Loss does not always entail transformation, but art made in response to it might at least encourage some pause and some reflection.
[And if you haven't yet, now you really have to check out Mahato's "Lullaby" here.]
Tags: Beth Staples, Mita Mahato, Shenandoah
"If you chase two rabbits," Taylor Swift told USAToday, "at some point you end up losing both."
By rabbits she means commercial markets, and for her maximizing revenues requires an allegiance to the larger bunny, pop, as her jilted country fans hop away. "I needed to pick a lane," Swift said, criticizing her 2012 album, Red, because it featured "mandolin on one track, then a dubstep bass drop on the next song. You're kind of thinking are these really on the same album?" So her new album, 1989, chases pop fans straight down the "80s synth-pop" lane. This, according to one of her collaborators, is evidence of Swift "relentlessly pushing herself to be unafraid of taking chances."
Now I'm not seriously criticizing USAToday for its lack of cutting-edge journalism. The Taylor Swift article is an advertisement, and the soundbites are her corporate interests talking. Mixing mandolin and dubstep was taking a chance, the dubstep half of the album yielded Swift's first No. 1 single, and so now she is "unafraid" to solidify that pop base. Even the year 1989 signals risk aversion. By the late the 80s, the pleasant chaos of the New Wave upheaval had been absorbed into predictable pop formulas. Devo and the Talking Heads had devolved into the Bangles and Tear for Fears.
Swift's one-rabbit approach also runs counter to some of the best mandolin-dubstep fiction of the 80s. Margaret Atwood, then an acclaimed novelist of the purely narrative realism mode, published her first speculative novel, The Handmaid's Tale, in 1985. Toni Morrison won the 1988 Pulitzer for chasing those same two rabbits, speculative and realism, with Beloved, a literary horror novel. And Alan Moore and Dave Gibbons' Watchmen put comic books on the literary map for the first time in the 80s too. Superheroes, ghosts, dystopic futures–you're kind of thinking are these really in the same genre?
Jon Caramanica in his New York Times rave of Swift's new album provides one of the best working definitions of genre I've seen in a while: "It's a box, and a porous one, but a box all the same." Caramanica also calls 21st century pop "overtly hybrid" and country a "hospitable host body," one that the body-snatching alien Swift has sucked dry and discarded. That's a lot of genre metaphors to juggle at once, so I'm going to stick with cars and rodents for now. Despite Swift's relentless push down the pop lane, the 21st century literary highway has seen some major additions to the two-rabbit playlist. My course, 21st Century North American Fiction (I know, not as catchy as any of Swift's titles) features a list of authors straddling "literary" (meaning "artful," not "set in the real world") and "genre" (any of those formerly lowbrow pulp categories of scifi, fantasy, horror, mystery, romance, etc.).
At first it sounds like a marketing wet dream: combine two genres and double your audience. You like zombies? You like literary fiction? We'll you're going to love Colson Whitehead's literary zombie novel, Zone One! Although the novel did spend two weeks in The New York Times' top twenty best sellers list, it did not receives the accolades of many of his earlier novels. Instead of bringing two diverse readerships into harmony, a two-rabbit novel appeals mainly to that sliver-thin, Venn diagram cross-section of readers willing to straddle both categories. Instead of expanding your audience, the mandolin-dubstep approach can limit it.
Before assigning Zone One to my students, I tried to get my book club to read it, but one of our group's economics professors (we have two) despised it. In addition to his expertise in business, Professor MacDermott is a zombie aficionado (which has also resulted in our forming a Zombie Club splinter group). I asked him to write up his critique of Whitehead for my class:
"While it may have some literary merits, I don't read zombie books for literary anything. Contrary to just about everyone's opinion, the book did not strike me as terribly well written (unless well written = slog). I saw one review that said the "language zings and soars." Criminy – that's heavy handed. Perhaps I am a bit of a grunt when it comes to 'good writing' but I didn't see it. The biggest knock against it in my mind is that very little happens and what does happen is all over the place. Most of the zombie / dystopian books I have read (and that is a shamefully large number) are stuffed with action … probably too much. This one had very little. . . .  So, I guess in the end my recommendation would be to not read this book because while some may find the writing compelling, there is not much of a story (yeah … blah blah blah social commentary … blah blah blah). I took a look at the reviews in Amazon and found I agreed with several of the 1-star reviews (those written by the troglodytes)."
In the end, he likened it to handing The Iliad to someone because they said they liked war books. "That," he said, "is what it is like to hand Zone One to a zombie-phile."
So much for droves of zombie fans flocking to Whitehead. And many literary readers are equally repulsed. Shenandoah recently published a Noir issue, opening the door to a blog discussion of the relative merits of genre and literary fiction and their hybrid love children. Editor R. T. Smith drew a line in the literary sand:
"Hard-boiled, thriller, mystery, crime – following the spoor of these labels will draw an investigator into the territory where I think noir simmers. It's a somewhat different direction from super powers, paranormal events, zombies, weredogs, closet monsters, witches, alien storm troopers, time travelers. These are terms more likely to lead away from my noir zone, where characters who metamorphose don't grow fangs, fly away, deflect bullets or sport tails with stingers. The gumshoe's revolver may somehow fire eight rounds without being re-loaded, but it doesn't spew bats or emulsify anyone. Neither physics nor metaphysics are problematized, though the emphasis may be on aesthetics and ethics. It's an old personal preference – naturalism over supernaturalism, physics and metaphysics over hocus-pocus and the "black box" – a question of conventions and confidence."
Poet and historical-mystery author Sarah Kennedy articulated the anti-zombie stance too:
"For me, the problem with a great deal of literature about monsters and other non-human characters is that they become formulaic or silly in their attempts to prove that they're doing something "serious" when in fact they're just retailing the old conventions. Zombies are horrible looking and they eat human flesh. Even if a writer gives a zombie a science-fiction virus or (ick) a heart of gold, the character is still going to have all the signs of the formula: scary, grisly-looking, flesh-eating. It's probably going to walk a bit oddly (what with those bits and pieces falling off). It's going to be hard ever to convince me to take that seriously."
And this includes Whitehead's cross-bred literary zombies: "I have tried Zone One but frankly found it both pretentious and tedious and couldn't finish. There is no story there, at least not one that engaged me."
Kennedy's and MacDermott's definitions of "story" may be opposites, but neither was satisfied by Whitehead's mandolin and/or dubstep skills. Trying to satisfy both can mean satisfying neither. And it's not just literary zombies getting run down by one-lane readers.
My class is also studying Karen Joy Fowler's The Jane Austen Book Club, a literary novel that rode the "chicklit" wave up the best-seller charts in 2004. Fowler, like Caraminca's Swift, is a brain-sucking genre alien, leaping from her home planet Metafiction to the host bodies of narrative realism, science fiction, mystery, and, most recently, the hybrid my-sister-is-a-chimpanzee pop market. Despite Fowler's winning the 2014 PEN/Faulkner (an award controversially denied Morrison's Beloved), The Jane Austen Book Club still carries a non-literary taint. My department's Austen expert hasn't read it and looked at me suspiciously when I suggested she might. Another colleague, Professor Pickett, observed one of my classes for my tenure review and wrote in her evaluation afterwards:
"I had specifically asked Chris if I could observe a class devoted to this particular novel, both because I had started reading it myself over the summer and also because (as a result) I was curious about how he would handle the challenge of teaching a book I would unthinkingly have assigned to my own idiosyncratic genre of "airport bookstore" novel–one "light" enough to read in a distracting environment but "respectable" enough not to be embarrassed if caught reading–basically trade paperbacks for the 30-something female."
Even my students are wary of the novel. One, Libby Hayhurst, wrote in a homework response:
"this is by far the most entertaining book we've read, which makes me instantly mistrustful. While literary fiction can entertain, this is surely not its point. I have found myself reading this book only enjoying the plot and the characters, and without the desire to even take a stab at the deeper meaning . . . I am not sure the Jane Austen Book Club falls under 'literary fiction' (although I AM hesitating, but is this just because I'm reading it in an English course?)."
This despite Michael Chabon opening the course with his appeal:
"Entertainment has a bad name. People learn to mistrust it and even revile it. . . . Yet entertainment—as I define it, pleasure and all—remains the only sure means we have of bridging, or at least of feeling as if we have bridged, the gulf of consciousness that separates each of from everybody else. The best response to those who would cheapen and exploit it is not to disparage or repudiate but to reclaim entertainment as a job fit for artists and for audiences, a two-way exchange of attention, experience, and the universal hunger for connection."
Personally I don't find Taylor Swift entertaining, but I am entertained by plenty of popular and non-popular music. I don't have a problem with Swift, just her claim to chance-taking and her repudiation of albums that appeal to more than one kind of rodent. Mandolin-strumming and dubstep-dancing rabbits are more than roadkill on opposing lanes of entertainment traffic. I hope 1989 isn't our only future.
Tags: Colson Whitehead, Karen Joy Fowler, R. T. Smith, Shenandoah, Taylor Swift, The Jane Austen Book Club, Zone One