Monthly Archives: May 2017
Stan Lee suggested a central "gimmick" in his original 1961 synopsis for the Fantastic Four:
"let's make The Thing the heavy—in other words, he's not really a good guy … Let's treat him so the reader is always afraid he will sabotage the Fantastic Four's efforts at whatever they are doing—he isn't interested in helping mankind the way the other three are … the other three are always afraid of The Thing getting out of their control some day and harming mankind with his amazing strength … The Thing doesn't have the ethics that the other three have, and consequently he will probably be the most interesting one to the reader, because he'll always be unpredictable."
Although Ben Grimm is an "ex-war hero," Lee describes him as "surly," "unpleasant," and "brutish," even before radiation transforms him "in the most grotesque way of all," making him "more fantastically powerful than any other living thing." Early issues emphasize the same qualities. While Kirby and other artists had previously drawn superheroes as uniformly handsome, the Thing is "a walking nightmare" with a misshapen body and a face as unattractive as Moleman's. In the second issue, Sue whispers to Reed: "Sooner or later the Thing will run amok and none of us will be able to stop him!" and Ben, "a juggernaut of destruction," confesses: "sometimes I think I'd be better off—the world would be better off—if I were destroyed!" Many readers felt the same about nuclear weapons.
Even aside from the Thing, Kirby and Lee portrayed the Fantastic Four as superheroes who produce rather than assuage anxiety. Kirby opens the first issue with an image of frightened pedestrians pointing at the flare Reed has fired to gather the team; police officers remark that "the crowds are getting' panicky!" and that "[r]umors are flyin' about an alien invasion!" During their origin sequence, Johnny calls both Ben and Reed "monsters," before uncontrollably transforming into a Cold War version of the pre-Code Human Torch and accidentally starting a forest fire. "Together," declares Reed, "we have more power than any humans have ever possessed," a familiar superhero refrain now given new nuclear-era meaning.
The second issue opens with a three-page sequence of the Fantastic Four committing acts of sabotage, causing news agencies to declare them "public enemies" and "the most dangerous menace we have ever faced!"—an opinion repeated in #7 when a "hostility ray" turns the world against them as "four monsters," "the worst menaces ever to threaten this land!" The acts of sabotage were actually performed by shape-shifting Skrulls, and though the Fantastic Four are not powerful enough to defeat "the mighty invasion fleet menacing Earth," they end the "stalemate" by showing the Skrulls other Jack Kirby drawings from Strange Tales and Journey into Mystery and so convincing them that humans have armies of "monstrous" warriors ready to protect them. The first cover features one such monster, only now the Fantastic Four serve as monster-fighting monsters trying to protect the city from it—a defining introduction for the MAD-era superhero type.
The Fantastic Four's early antagonists evoked similar atomic fears with striking repetition. Moleman targets "every atomic plant" (#1), the Skrulls attack a "new rocket" test site (#2), Miracle Man steals an "atomic tank" (#3), and the 1940s Sub-Mariner vows revenge on the human race when he finds his underwater city destroyed: "The humans did it, unthinkingly, with their accursed atomic tests!" (#4). Dr. Doom, after bringing "forth powers he could not control" (#5), stokes the Sub-Mariner's hatred, describing "that monster of a bomb" that destroyed his civilization (#6). The Thing mistakes an alien spaceship for "a new missile test," while on Planet X, "Driven by fear and panic, our people are turning against each other! Soon nothing will be able to stop the riots … nothing except the doom which is hurtling toward us!" (#7). Finally, the Puppet Masters controls his victims by carving their likenesses in "radioactive clay" (#8).
Lee's "gimmick" to include a bad guy within a team of good guys altered the standard superhero plot structure by splitting the heroes' focus between fighting external threats and containing an internal one. Alan Moore, reading The Fantastic Four #3 as a child, had "the impression that [the Thing] was on the verge of turning into a full-fledged supervillain," not "the cuddly, likeable 'Orange Teddy-bear' of later years. Stan Lee recalls writing the character in a 1981 interview:
"I tried to have Ben talk like a real tough, surly, angry guy, but yet the reader had to know he had a heart of gold underneath … People always like characters who seem very powerful yet, you know they are very gentle underneath and you know they would help you if you needed it."
Lee's recollection is of the later characterization, not the Thing of 1961, whose surliness was not a disguise. When Ben says to Sue in the first issue, "Now let's go find that skinny, loud-mouthed boy-friend of yours!", Lee scripts her response at face value: "Oh, Ben—if only you could stop hating Reed." According to Lee's original synopsis, Ben "has a crush on Susan," "is jealous of Mr. Fantastic and dislikes Human Torch because Torch always sides with Fantastic," and "is interested in winning Susan away from Mr. Fantastic."
Despite Lee' stated intention, his and Kirby's rendering and readers' perceptions of Ben grew more sympathetic. Ben complains to Reed: "At least you're human! But how would you like to be me?" and Sue herself is sympathetic: "Thing, I understand how bitter you are—and I know you have every right to be bitter!!" When Ben returns to human form for a few moments after passing through the radiation belt again, Torch consoles him too: "She's right, pal! That was just a start!" In #3, despite renewed fighting with Torch, Ben intervenes to save Reed's life: "Reed can't dodge those dum-dums forever, I gotta do something!!"
By #6, Kirby and Lee are no longer portraying overt conflict between the characters, and with #8—coincidentally on sale during the Cuban missile crisis—Ben's "crush" ends and his character is redefined by the introduction of an alternate love interest. The Puppet Master's blind step-daughter, Alicia, disguises herself as Sue, fooling all of Sue's male teammates. Though Ben suffers another temporary transformation to human form, Alicia's love is permanently transforming: "This man—his face feels strong and powerful! And yet, I can sense a gentleness to him—there is something tragic—something sensitive!" The Thing transfers his affection to Alicia, who reciprocates and humanizes his previously inhuman character: "the clinker is—she likes me better as the Thing!" In the following issue, Alicia calls Ben "my white knight! You are good, and kind, and you will never desert your friends when they need you most!", prompting Ben to hug his teammates: "us white knights don't desert their companions in arms! I'm with ya, gang!"
Marvel began with a Cold War plot gimmick that resulted in unplanned character complexity and then ad hoc revision, producing the unified family-like Fantastic Four that would define the series and a new superhero character type that would define the Marvel universe.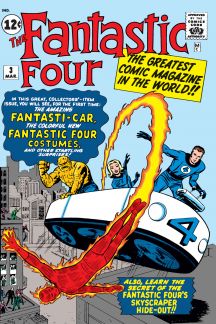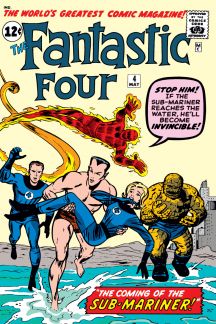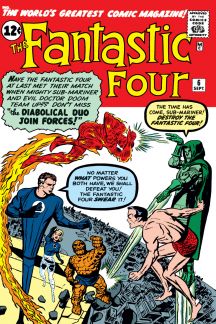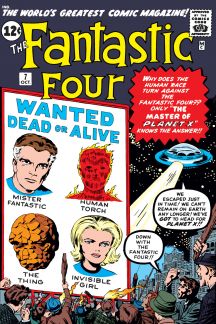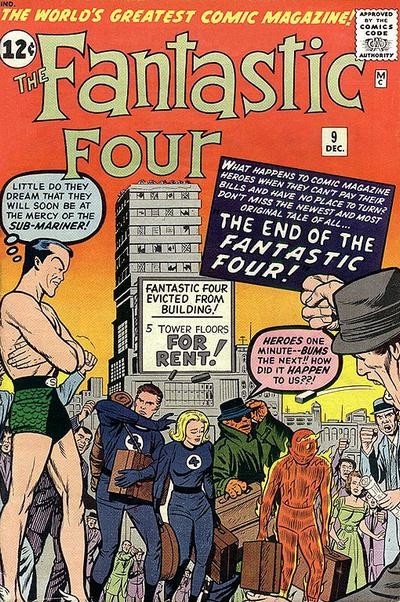 Tags: 1961, Cold War, Jack Kirby, MAD, Stan Lee, The fantastic four