Monthly Archives: January 2020
I may have odd taste in graphic novels. If forced to choose between formal experimentation and clarity of storytelling, I'd go with experimentation every time. It's just more fun. Comics are an inherently odd, hybrid form that merges the alien DNA of words and pictures, and so I enjoy the idiosyncratic ways each artist slices and sutures those visual materials on the surgical table of the page. But sometimes that inherent oddness gets flattened under the reflexive clarity of conventions: the same panels, the same gutters, the same reading paths, the same word containers, the same drawing styles, the same cartooning norms.
Happily, Connor Willumsen doesn't make me choose. His Bradley of Him delivers an engagingly idiosyncratic visual approach that challenges comics conventions while still providing the pleasures of a vividly told visual tale.
Here's a basic comics expectation: the words in a panel and the image in a panel both refer more-or-less to the same thing. It's so basic most readers might not even register it as an expectation, until it's broken—which Willumsen dose on page one. I would say panel one, but there are no panels, not in the traditional sense of framed rectangles separated by the non-space of a gutter. Instead Willumsen draws a twelve-image sequence of a free-floating figure in running clothes performing warm-up stretches. Though his location is undrawn, his multiple images are superimposed over a psychedelic car, a grove of potted plants, and a row of velvet rope stanchions at the center of the page. If that's not odd enough, according to the words trailing from his speech bubbles, he's giving an awards-ceremony acceptance speech, though clearly he is not. In the bottom row, a woman leans over him, politely asking if he could use the fitness center instead. He says no.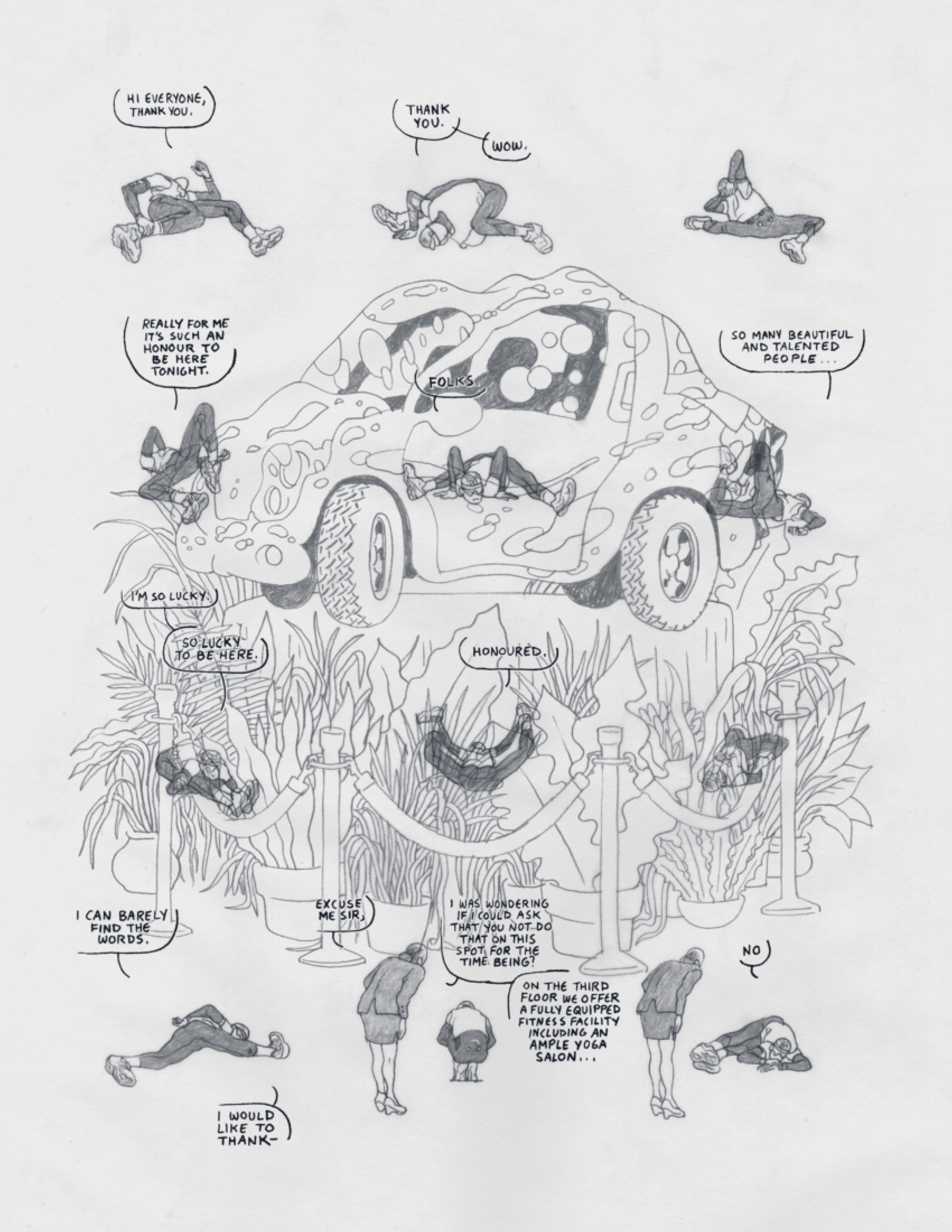 What the hell is going on?
As I said, I may have odd taste, but I find this level of ambiguity delightful. For those who prefer storytelling clarity over experimentation though, don't worry, Willumsen soon pulls it all together for you: the main character is mentally rehearsing an acceptance speech while also preparing for a run by stretching on the lobby floor of the Las Vegas hotel he's staying at where the weird car, plants and ropes are on display. The initial confusion seems banally simplistic in retrospect, the equivalent of a slightly misaligned camera.
That describes Willumsen's aesthetic generally. Turn a page and you're likely to feel an initial moment of visual narrative confusion that soon resolves into some retroactively pleasant clarity.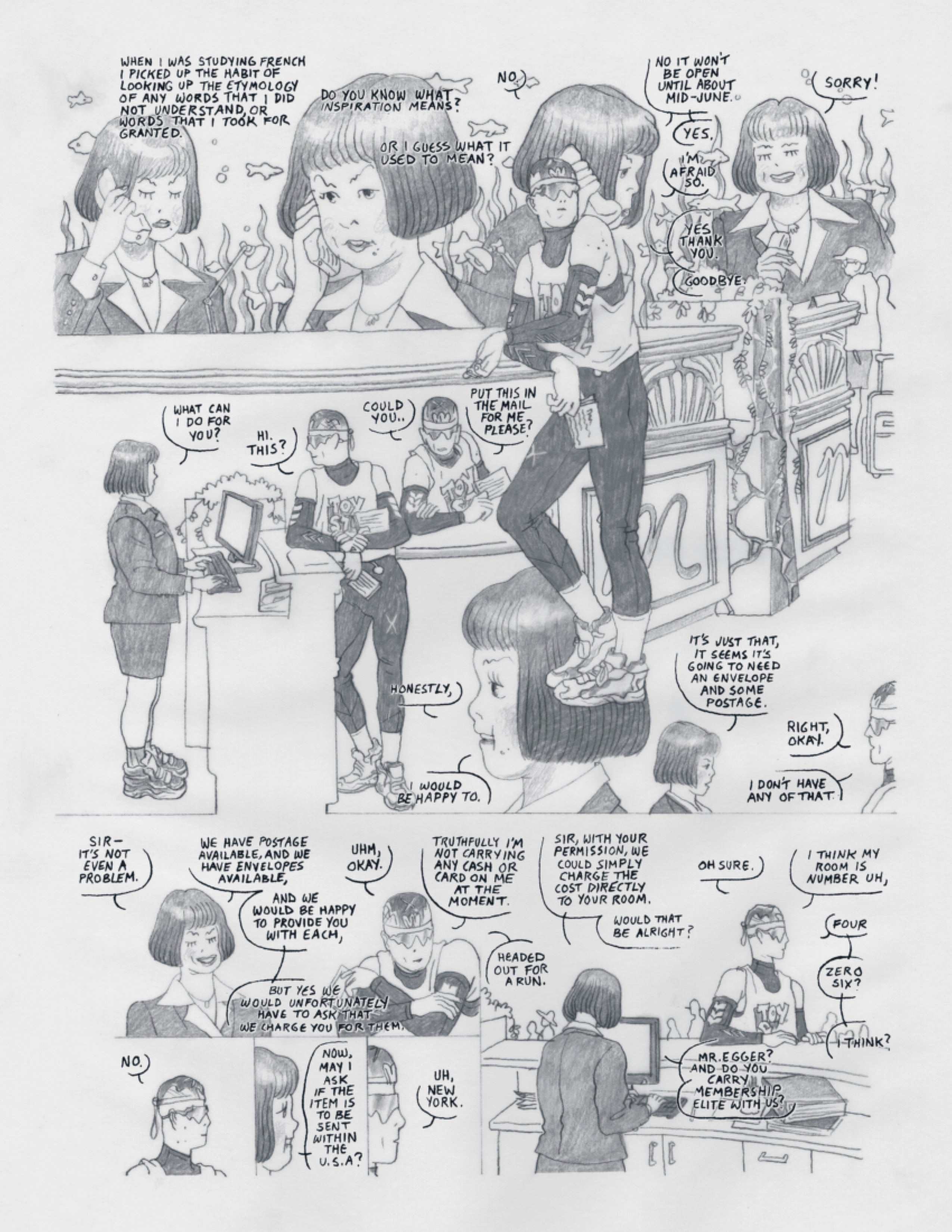 Take page four. It opens with an image of a woman (the same one who was at the bottom of page one it turns out) with a phone to her ear with words freely floating above her head (Willumsen never uses caption boxes). According to comics conventions, the words should be the voice in her ear. Willumsen knows that but toys with us further by having the women answer "No" as if in response to a narrated question. Yet she's actually responding to the unheard (and unprinted) voice on the phone while the main character waits to mail a letter before leaving for his run. The words floating above her head are words from the letter. Willumsen was just misaligning image and text for a playful but quickly-resolved moment of visual tension.
Willumsen maintains the approach. Turn to page eight and suddenly a father is sitting in a stopped car with his daughter in the backseat stressing about some animal he's struck. Who are these people? How are they related to any of the narrative threads we've been following? They aren't. Or they aren't until our main character jogs past, refusing to stop and aid them. Page eighteen and we're in the back of an ambulance listening to the unrelated banter of two EMTs. Why? Because, it soon turns out, they're following our main character after (we have to infer) the cops shown on a previous page contacted them because our main character is apparently deranged and refusing to stop despite the dangerous heat and distance of his run.
While I find these visual and narrative sleights-of-hand entertaining in themselves, this isn't just experimental self-indulgence. Willumsen's misalignments serve a deeper purpose. They reflect his main character's misaligned mind. I've been avoiding naming the "him" of the title because there's more than one identity in play here. At the surface level "he" might be the real-world athlete Lance Armstrong. On page twenty-eight, we learn that the award ceremony includes the equally real-world Bradley Cooper, a Best Actor nominee for his performance in the film "Stronger: The Story of Lance Armstrong." So is the jerk who won't stop jogging to help a distressed driver the actor or the character he's playing? And then there's the still more ambiguous "Murray," whose sister and niece are searching for him in his empty apartment. Is the main character actually Murray pretending he's Bradley pretending he's Lance?
Honestly? I don't know. More oddly, I'm not that worried about it. Since the novel is about misalignments, a simplistic narrative resolution would betray that aesthetic. We're supposed to be a little confused. Bradley-Lance-Murray is a little confused too. The world is a confusing place. A comic about a confusing world should be confusing.
Willumsen's inventiveness doesn't stop there. The looping time structure is equally engaging, making me question whether the award ceremony flashbacks are flashbacks at all. And who exactly is the women he's writing that letter to? There's a lot to unpack. Another comics artist might have filled in all these intriguing gaps by expanding the story beyond sixty-four intensive pages. Happily, Willumsen keeps his narrative as lean and off-balance as his maybe-deranged main character.
[A version of this post and my other recent reviews appear in the Comics section of PopMatters.]